Tim Clare is an academically trained and accomplished theatre professional based in Warwickshire. He has a special interest in Lighting Design and an in-depth understanding of the ETC Eos family of consoles, as well as being an accredited member of Equity as a professional Stage Manager.
Tim's current position is based at the Royal Spa Centre, a mid-size regional receiving house. The shows vary from one-night comedy or music performances to week-long plays and musicals and, of course, a traditional family pantomime.
Deputising for the Technical Manager and acting as Resident Lighting Designer for the Theatre, Tim uses his leadership skills to ensure projects are successfully completed, as he guides a team of three technicians, all whilst training an apprentice! His lighting skills are put to good use on the annual co-production pantomime for Imagine Theatre, alongside lighting the week-long amateur runs in the main auditorium.
Theatre has been a life long passion with his technical skills honed as a teenager in Dorset. As his teachers recognised passion coupled with technical ability, he was successful as the school's resident theatre technician. This then grew to Tim working in the entertainment industry across two continents, including professional theatres in Denver (Colorado), on several Fringe Festival shows.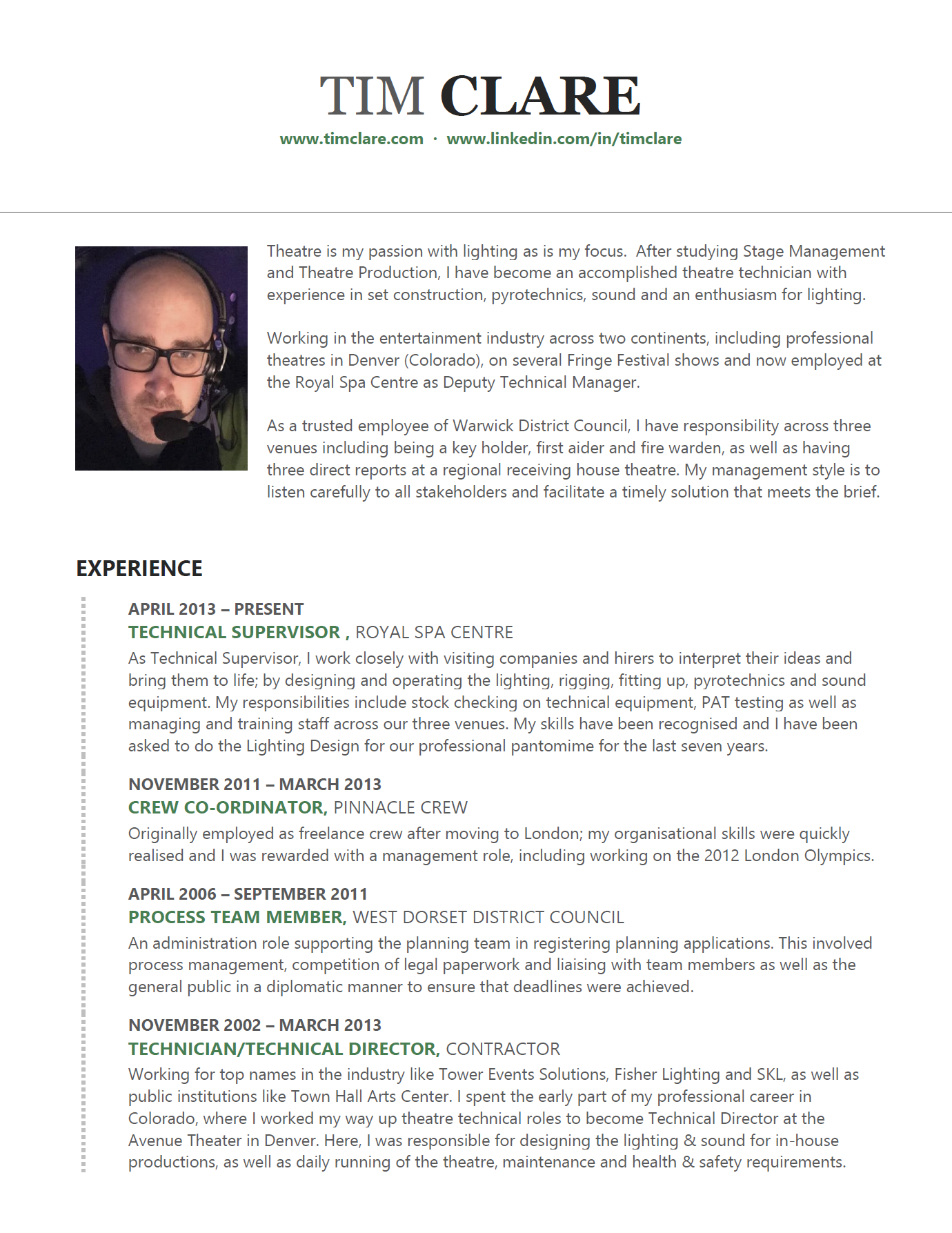 Alongside academic studies, Tim has also obtained professional and work based qualifications which include Eos Family Level 3 Advanced course, PAT Testing qualification, First Aid Certificate, and is working towards an ILM Level 3 Leadership Qualification. He has a full clean UK driving licence and has been trained to use Scissor Lifts and Cherry Pickers.
In his spare time, Tim enjoys geocaching (both in the UK and internationally), playing the piano, organising social functions, and taking part in local quizzes!
Click the image to the left to view a copy of Tim's CV.